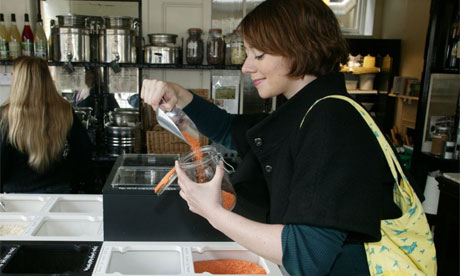 (A woman shopping at Unpackaged, a shop in London. Photograph: Frank Baron/Guardian)
"Recycling is good, but precycling - cutting out packaging in the first place and buying only what you need - is better. Tanis Taylor tried it for a month..."
Read more:
Waste Not, Want Not
The New York State Department of Environmental Conservation provides good hints on how to precycle:
Let's Precycle!
How to Start Precycling?
bring traveling coffee mug

bring tote bags for grocery
bring empty jars for bulk items
bring spork for eating food

read local newspaper articles on the internet
Do you have an idea or suggestion on precycling that you would like to share with us? Leave a comment.